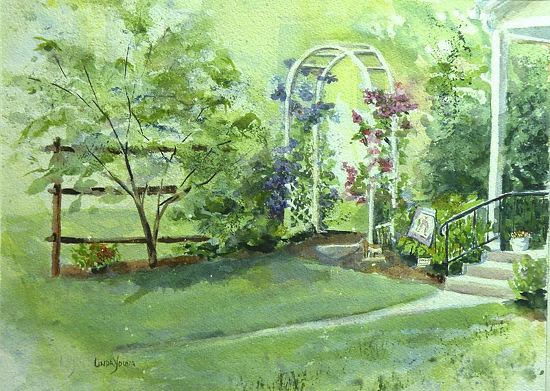 Titled: Lovebugs Welcome
9 x 12 Watercolor
Plein Air Camp Hill 2012
Tuesday, June 4, 2012
Painted on North 17th Street. What attracted me to this scene was the two colors of clematis growing up the side of the arbor, the contrasting white of the porch and arbor against the dark railing and airiness of the tree.
A beautiful garden awaits me on Wednesday...I can't wait!
Linda Young Watercolors P O Box 941 Carlisle, Pa. 17013
I appreciate your comments.
---
« Artist's colony at Gettysburg and Camp Hill Plein Air Competition and Arts Festival | Main | St Francis Garden, Camp Hill Plein Air Competition and Arts Festival »
---
---